AUGUST 2019
The Pennsylvanian POLST Collaborative is announcing a new POLST website that increases accessibility to POLST information. To reach the site, users can go to www.papolst.org. A partial screen shot of the home page is found below.

---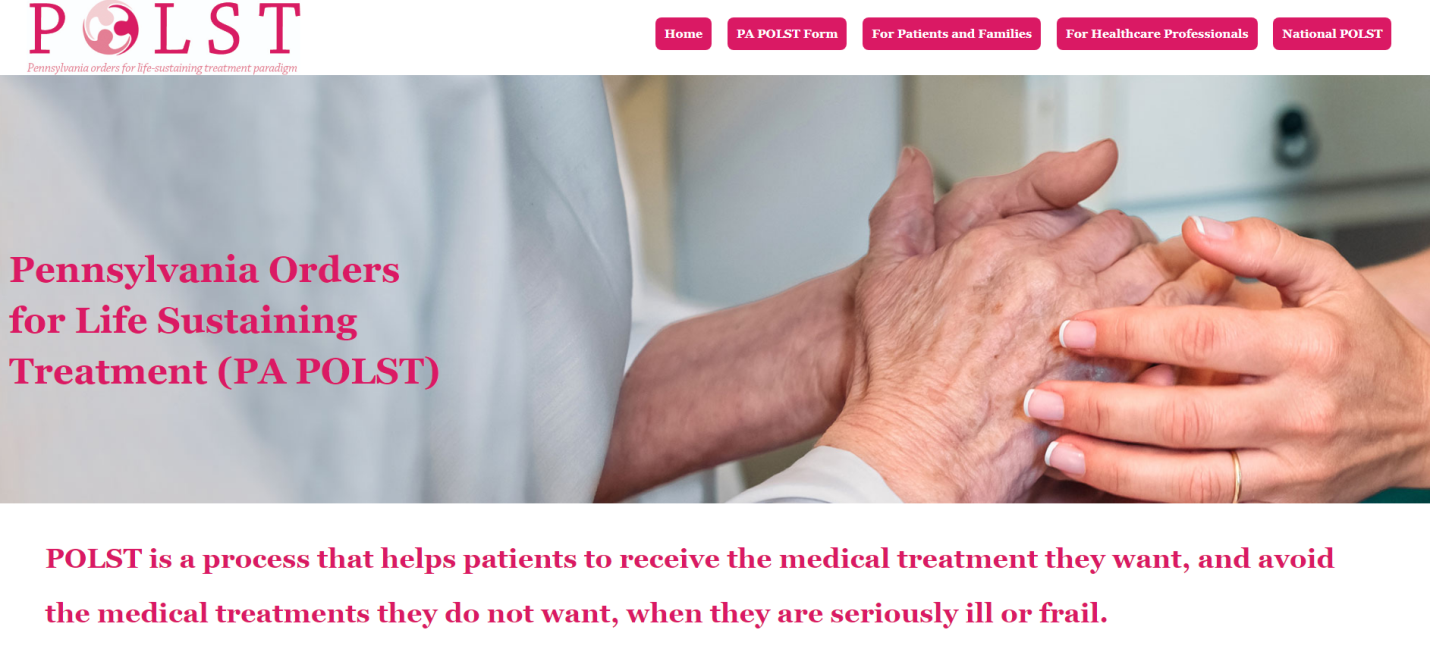 Users who have been accessing POLST information through the website of the Aging Institute of UPMC Senior Services of the University of Pittsburgh will be able to continue to do so. That link is
www.aging.pitt.edu/professionals/resources-polst.htm.
The continuing support of the institute is appreciated.

POLST in Skilled Nursing Centers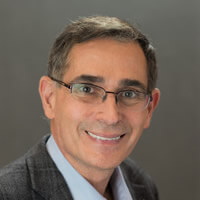 Karl Steinberg, MD, CMD, HMDC, is chief medical officer for Mariner Health Care and vice president of AMDA–The Society for Post-Acute and Long-Term Care and serves on the National POLST Paradigm's Leadership Council. Dr. Steinberg has written an article for the July issue of Provider Magazine called "POLST: Promise and Pitfalls in Skilled Nursing Centers" that is found at this link.
---
POLST Form and Artificial Nutrition
Effective January 2019, the Oregon POLST form no longer includes orders regarding artificially administered nutrition. The January 2019 issue of the Journal of American Geriatrics (JAGS) included a letter to the editor written by Susan W. Tolle, MD, Valerie M. Jimenez BS of Oregon POLST leadership and Elizabeth Eckstrom MD, MPH, a geriatrician at Oregon Health Services University, that discussed the reasoning for the decision, Oregon's January JAGS letter.
That decision was not supported by the National POLST Paradigm (NPP) Plenary Assembly which discussed the issue at some length at a May meeting. After a review of evidence, discussion of clinical implications, and reflection on the philosophical foundations of POLST, assembly leaders from 40 states, including Pennsylvania, voted almost unanimously to keep artificial nutrition on POLST forms. Three states abstained from voting on the issue and none opposed it. Susan Hickman, PhD, Amy Vandenbroucke JD and other NPP leaders summarized the process and the meeting outcome in a letter published August 14, 2019 in JAGS.
An NPP position is that POLST orders are relevant in guiding decisions about emergency interventions in the event of cardiac or respiratory arrest, as well as to guide decisions in consultation with patients and/or surrogates about other or "nonemergency" decisions. Keeping artificial nutrition orders on the form prompts discussions about it and increases the likelihood that documentation about this choice will be available.
---
National POLST Paradigm Governance
The National POLST Paradigm is the entity that provides guidance and support to state POLST programs. The Pennsylvania POLST Coalition is aligned with the national team and Doctors Judith Black of Pittsburgh and Alex Nesbitt of Williamsport are representatives on the national team.
The NPP is governed by two groups: the Leadership Council and the Plenary Assembly. Additionally, there are individuals serving as Advisors to the National POLST Paradigm, the Leadership Council, and the Plenary Assembly. This governance structure replaces the National POLST Paradigm Task Force, the group that governed the POLST Paradigm from 2004 – 2018.
---
Some readers may have heard of a current project of the National POLST office. The project goal is to create a POLST form that programs across the country would be willing to begin to use in the next couple of years and one eventually all programs would use. Rationale for use of this national form follows.
• Make using POLST easier for patients who travel or who live on state borders.
• Eliminate reciprocity issues.
• Improves the ability to educate about POLST to health care providers and patients.
• Educational materials can developed at the national level.
• Easier quality assurance since working from same process and form.
Use of the national form would not be mandatory. Currently Pennsylvania does not have a readily available mechanism for updating or changing our current form. That will be a function of an Advisory Committee to be appointed upon the approval of POLST legislation. Consequently, Pennsylvania would be unable to adopt the national form in the near future. Further, we would not be able to confirm that the Advisory Committee formed as an outcome of the legislation would approve that form for use in our state.
---
Status of POLST Legislation
Since POLST legislation did not receive approval in both houses of the Pennsylvania Assembly in the last legislative session, it has been reintroduced again. Representative Paul Schemel of Waynesboro is the prime sponsor of HB 987 which was referred to the House Health Committee in March. Senator Gene Yaw from Williamsport again introduced the bill in the Senate. SB 142 has been referred to the Health and Human Services Committee.
There are some differences in language within the two bills. The Pennsylvania legislative stakeholder group supports the Senate bill consistent with the national policy that states while POLST is always voluntary, it is appropriate for any patient who:
• is at an increased risk of experiencing a medical emergency based on their current medical condition and who wishes to make clear their treatment preferences, including CPR, mechanical ventilation, ICU; or
• has had multiple unplanned hospital admissions in the last 12 months, typically coupled with increasing frailty, decreasing function, and/or progressive weight loss; or
• has had multiple unplanned hospital admissions in the last 12 months, typically coupled with increasing frailty, decreasing function, and/or progressive weight loss.
---
POLST: Doing It Right! Training Course – Save the Date
Two POLST training courses will be presented this fall. The Jewish Healthcare Foundation is the sponsor for a presentation at its downtown Pittsburgh location on October 29. The POLST Task Force for North East PA is presenting on November 15 in Dallas, PA.
Look for more detail and registration information on the new POLST website, www.papolst.org after September 1 or contact the POLST coordinator at papolst@verizon.net.
Thank you for your continuing support of POLST.
Judith Black, MD, MHA
National POLST Paradigm Leadership Council
Jewish Healthcare Foundation Medical Advisor
Marian Kemp
POLST Coordinator
Coalition for Quality at the End of Life (CQEL)
Coalition for Quality at the End of Life (CQEL)
Jewish Healthcare Foundation
Centre City Tower, Suite 2400
650 Smithfield Street
Pittsburgh, PA 15222
412-594-2550