---
At the November CQEL meeting, the current focus of the PA POLST Program was communicated. During 2021, attention will be directed to: 
Improving the quality of conversations that lead to POLST completion and documentation

Revising the PA POLST form in light of a new National POLST form

Work with EMS across the state to assure completed POLST forms are honored

Work with legislators to have clinical useful regulations

Reinforce that completion of the POLST Is always voluntary
---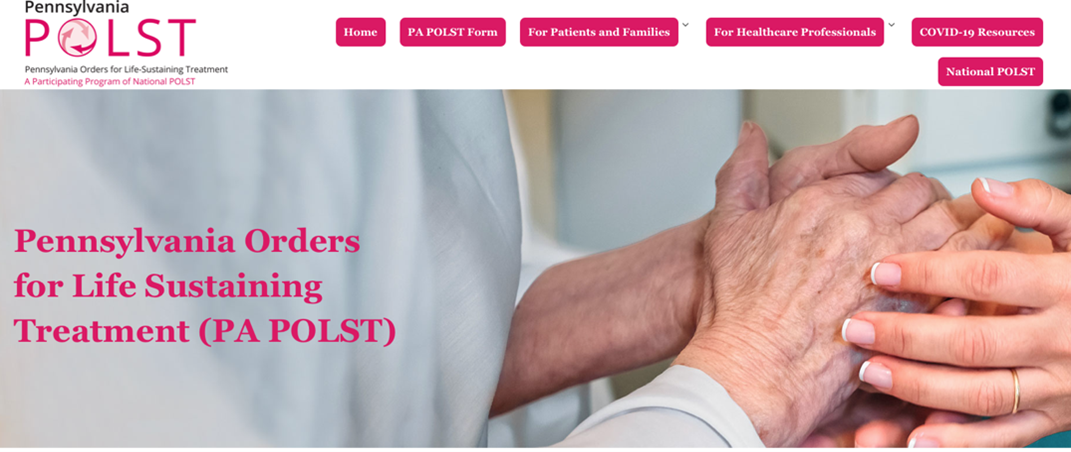 This is a reminder to access the POLST Website here or here when various types of POLST information would be useful. You can find information on appropriate use of POLST, best practices for long-term-care, conversation guides, policy guidance and other information. We also provide a link to COVID-9 resources. 
You can download the POLST form in English or Spanish too. Recently, there was an inquiry regarding why the second side of the Spanish language POLST form is in English. To clarify, the translated Spanish version is for educational purposes when discussing a patient's wishes with a Spanish speaking patient or family. The signed form must be in English so that EMS and other health care personal can read and follow the orders.  
When you are having a patient or family conversation about POLST, it is recommended that a copy of the "Information for Patients and Families", either in Spanish or English be provided.
---
As stated on its website, the mission of VitalTalk "is to teach clinicians how to be better, more compassionate communicators with seriously ill patients and their families". Faculty provides face-to-face, virtual and online self-paced instruction that reaches thousands of clinicians each year. At the VitalTalk website you can learn more about available resources, obtain information on how to take courses and view videos that provide core techniques. These subjects include describing serious news, addressing goals of care and conducting family conferences. 
VitalTalk's founders include CQEL member and Palliative Care Physician at the University of Pittsburgh, Dr. Robert Arnold and Doctors Anthony Back and James Tulsky. 
---
"Can We Talk? Getting Real About the End of Life" is a video that was made possible by a grant form Highmark Blue Cross Blue Shield to the 1889 Foundation in Johnstown.  Presented by Katy Butler, author of The Art of Dying Well and Knocking on Heaven's Door, this program Katy discusses "step by step preparations — practical, communal, physical, and spiritual — all designed to help you make the most of your remaining time, be it months, years, or decades." View the video.
---
It has been a privilege to have been able to work to advance the appropriate use of POLST in Pennsylvania for over 20 years and to have seen such progress occur. However, all good things do come to an end so I will no longer be doing the work of the PA POLST Coordinator. Nicole Greer of JHF will be assuming that role.  
I am grateful for the experience and to have been associated with so many committed health care professionals, some of whom have become friends. This certainly includes Judy Black. I will miss the communication I have with you over the years. My hope is that I have been of help. My wish is that that the work continues and greater understanding of the value of POLST to patients and families and to health care professionals is achieved. And legislation would be good too.
Best wishes to you all. 
Marian
Personal Email: mvkpgh@verizon.net
Thank you for your continuing support of POLST.
Judith Black, MD, MHA
National POLST Plenary Assembly
Jewish Healthcare Foundation Medical Advisor
Marian Kemp, RN
POLST Coordinator
Nicole Greer, MPH, MPA, RN
Coalition for Quality at the End of Life (CQEL)
Jewish Healthcare Foundation
EQT Plaza
625 Libery Ave, Ste. 2500
Pittsburgh, PA 15222
412-594-2550